We're Getting Mutants in the MCU - The Loop
Play Sound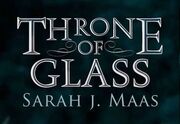 Throne of Glass, originally called Queen of Glass, is a series of young adult fantasy books by Sarah J. Maas. The story follows the journey of Celaena Sardothien, a teenage assassin in a corrupted kingdom.
Main series
Novellas
Companion books
Online short stories
Extra content
Overview
The Assassin's Blade: The Throne of Glass Novellas
A collection of stories set prior to the Throne of Glass series, the five novellas explore the dark background of Celaena Sardothien shortly before her capture and imprisonment in Endovier. Chronologically, the novellas are as follows:
Throne of Glass follows Celaena Sardothien, an 18-year-old assassin in the kingdom of Adarlan, as she frees herself from the shackles of slavery.
Following her imprisonment in the Salt Mines of Endovier, she is offered the chance of freedom by Crown Prince Dorian Havilliard by competing in a dangerous competition to become the King's personal assassin. Her stay at the glass castle in Rifthold leads her to develop unexpected friendships and draws her into a dark and menacing power struggle within the castles walls.
Crown of Midnight is the sequel to Throne of Glass and follows Celaena as she rises to her position as the new King's Champion.
From his glass throne rules a King with a fist of iron and a soul as black as pitch. Assassin Celaena Sardothien won a brutal contest to become his Champion. Yet Celaena is far from loyal to the crown. She hides her secret vigilantly; she knows that the man she serves is bent on evil. Relationships are tested, lives lost, battles fought and the life-altering secret Celaena has kept since her parents death is finally revealed.
Heir of Fire is the third book in the Throne of Glass series and introduces a variety of new characters; some human, some not, but all vital in shaping Erilea's future.
Lost and broken, Celaena Sardothien's only thought is to avenge the savage death of her dearest friend. Any hope Celaena has of destroying the King lies in answers to be found in Wendlyn. Sacrificing his future, Chaol, the Captain of the King's Guard, has sent Celaena there to protect her, but her darkest demons lay in that same place. If she can overcome them, she will be Adarlan's biggest threat – and his own toughest enemy. 
Queen of Shadows is the fourth book in the Throne of Glass series, released in September of 2015.
Everyone Aelin Galathynius, formerly Celaena Sardothien, loves has been taken from her. But she's at last returned to Erilea—for vengeance, to rescue her once-glorious kingdom, and to confront the shadows of her past... She will fight for her cousin, a warrior prepared to die just to see her again. She will fight for her friend, a young man trapped in an unspeakable prison. And she will fight for her people, enslaved to a brutal king and awaiting their lost queen's triumphant return. Aelin's epic journey has captured the hearts and imaginations of millions across the globe. This fourth volume will hold readers rapt as Aelin's story builds to a passionate, agonizing crescendo that might just shatter her world.
Empire of Storms is the fifth book in the Throne of Glass Series, released on September 1, 2016.
After freeing the Kingdom of Adarlan from the tyranny of its ruler and saving her friends, Aelin Galathynius travels northward to return to her forgotten home, only to find herself unwelcome. Rallying forgotten allies in foreign lands against the growing threat of darkness from Morath, she moves to stand against the greatest enemy that Erilea has seen in hundreds of years. But with all her cunning plans, is it enough to withstand an attack on two dark fronts? Reuniting the lost children of Terrasen and embracing her own dark powers, Aelin develops new friendships with unlikely characters and reveals her surprisingly intricate plans, only to leave readers in heart-breaking suspense.
Tower of Dawn is the sixth book in the Throne of Glass series, released on september 5, 2017.
Chaol Westfall has always defined himself by his unwavering loyalty, strength, and position as the Captain of the Guard. But all of that has changed since the glass castle shattered since his men were slaughtered since the King of Adarlan spared him from a killing blow but left his body broken.
His only shot at recovery lies with the legendary healers of the Torre Cesme in Antica - the stronghold of the southern continent's mighty empire. And with war looming over Dorian and Aelin back home, their survival might lie with Chaol and Nesryn convincing its rulers to ally with them.
But what they discover in Antica will change them both -and be more vital to saving Erilea than they could have imagined.
Kingdom of Ash is the last book in the Throne of Glass series, released on October 23, 2018.
Aelin has risked everything to save her people-but at a tremendous cost. Locked within an iron coffin by the Queen of the Fae, Aelin must draw upon her fiery will as she endures months of torture. Aware that yielding to Maeve will doom those she loves keeps her from breaking, though her resolve begins to unravel with each passing day…
With Aelin captured, Aedion and Lysandra remain the last line of defense to protect Terrasen from utter destruction. Yet, they soon realize that the many allies they've gathered to battle Erawan's hordes might not be enough to save them. Scattered across the continent and racing against time, Chaol, Manon, and Dorian are forced to forge their own paths to meet their fates. Hanging in the balance is any hope of salvation—and a better world.
And across the sea, his companions unwavering beside him, Rowan hunts to find his captured wife and queen before she is lost to him forever.
As the threads of fate weave together at last, all must fight if they are to have a chance at a future. Some bonds will grow even deeper, while others will be severed forever in the explosive final chapter of the Throne of Glass series.
Companion books
The World of Throne of Glass is a companion book in the Throne of Glass series, it was released on December 1, 2019.
For the first time ever, this comprehensive guide to the world of the smash hit, New York Times bestselling Throne of Glass series brings together trivia and details from all of the books in one volume. Fans of the series will be completely immersed in the world of famed assassin Aelin Galathynius, getting a closer glimpse at everything from the cast of characters and lush settings she encounters to the enchanting magic, gods, and creatures that fill the series' mythology.
Complete with an expansive glossary, a timeline of events, and black-and-white illustrations throughout—as well as a color insert—The World of Throne of Glass is a must-have official companion for any fan of the series.
Throne of Glass Coloring Book is a coloring book about Throne of Glass, released on September 6, 2016.
Experience the vivid imagery of Sarah J. Maas's expansive world in her breathtaking New York Times bestselling Throne of Glass saga. Celaena on the rooftops of Rifthold, Chaol in the gardens of the glass castle, Manon riding her wyvern through the Crossing, and many other favorite moments, characters, and objects from the vibrantly detailed realm of Throne of Glass come to life. With stunning original black-and-white drawings, The Throne of Glass Coloring Book is a must-have companion for any reader looking to be swept up in the adventure of a lifetime.
Gallery
Adaptions
In September 2016 it was announced that Hulu would be adapting the Throne of Glass series to television under the title Queen of Shadows, with Kira Snyder (the 100) set to write the adaption and Anna Foerster set to direct the pilot episode, Celaena.[1]
However, as of 2021 no further information has been released regarding the adaption.
Trivia
References