---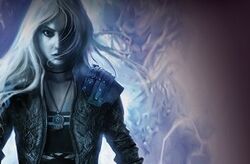 The THRONE OF GLASS WIKI is a collaborative community encyclopedia about the best-selling Throne of Glass series by Sarah J. Maas that anyone, including you, can edit! We aim to become a definitive source for all things related to Throne of Glass and it's upcoming TV adaptation.
---
---
---
Throne of Glass is getting its very own card game! Illustrated by the talented Coralie Jubénot, AKA Merwild, Embers of Memory: A Throne of Glass Game will be released on October 1st. Take a sneak peak at the artwork below!
---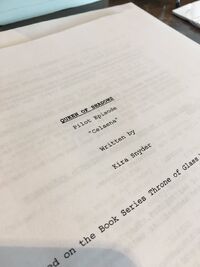 "
'So, so, SO excited to (finally) announce that the Throne of Glass series has been optioned for TV!! YAYYYY!! 😁😭😭💖💖🎉🎉🎉'
"

–Sarah announcing the news on Twitter
---
Lysandra Ennar is a former courtesan and a shifter. After the war against Erawan ended, she was given the title of "Lady of Caraverre" by Aelin Galathynius.
When Lysandra was a young child, she was kicked out of her home. She spent days crying at her mother's door until she was threatened by guards that she would be taken away. Using her ability to shift, she spent her days as different animals and as beautiful young girls begging for food. Eventually she was found by Arobynn Hamel and given to Clarisse DuVency. This meant that she had to become a prostitute.
Queen of Shadows
When Lysandra appears for the first time she is paying a visit to Aelin's house in Rifthold in order to inform her about Arobynn Hamel's plan. The young courtesan was at the time accompanied by a young little girl named Evangeline, since she knew that Aelin wouldn't kill her in front of a child. Lysandra explains to Aelin the reason of her visit. She has come in order to give Aelin the details of the plan to save the young queen's cousin, Aedion, who is about to be executed at the celebration for the Crown Prince's birthday. Once she explains every last detail of the plan, the young courtesan starts talking about the past, revealing to Aelin things that she wasn't aware of. At the end of the meeting, Aelin and Lysandra come to the conclusion that there is no need for them to be enemies and that they both have been manipulated by Arobynn in order to dislike each other.
---
Community content is available under
CC-BY-SA
unless otherwise noted.