Fleetfoot is Aelin Galathynius' dog, gifted to her by Dorian Havilliard.
Biography
Fleetfoot was given as a Yulemas gift from Prince Dorian to Celaena.[1] Princess Nehemia Ytger often looked after her. Fleetfoot would most likely have been put down if Dorian hadn't gifted her to Celaena.
Fleetfoot jumps through a portal to another world when Celaena opens the portal to try and speak with Nehemia.
When Celaena is in Wendlyn, Dorian looks after Fleetfoot. Fleetfoot frequently sleeps in Dorian's bed. When Dorian reveals his magic to the King of Adarlan, Chaol escapes, taking Fleetfoot with him.
Celaena, now Aelin, and Fleetfoot are reunited when Rowan is taken to a country home in Oakwald Forest to be patched up by a midwife.
Fleetfoot is left in Terrasen with Evangeline and Murtaugh Allsbrook.
Fleetfoot appears in last chapter laying on his bed in Aelin and Rowan's room.
Personality
Fleetfoot is quite cautious of strangers and does not like to be touched or stroked by anyone other than Aelin. Fleetfoot is also good friends with Evangeline, and enjoyed playing with Nehemia before she was killed.
Physical description
Fleetfoot is a big dog, with golden fur and bright eyes. She is first described as slightly larger than the others, with a silky, silvery gold coat; and with the appearance of a purebred despite her mixed heritage. She is later depicted with a slender snout, a more pronounced gold coat, folded velvet-soft ears, and with golden-brown eyes that reminded Celaena/Aelin of molten caramel. She is also described as having huge paws hinting that she will grow large and swift, during the time of Dorian's gifting.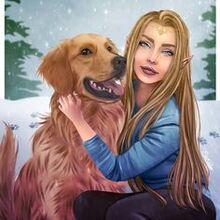 Gallery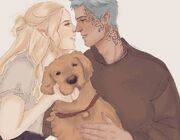 Appearances
References
Community content is available under
CC-BY-SA
unless otherwise noted.