"
"Terrasen remembers Evalin Ashryver. Do you? I fought at Mistward for your people. Return the gods-damned favor."
"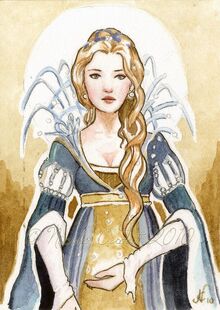 Evalin Ashryver Galathynius was the mother of Aelin, wife of Rhoe Galathynius, and the sister of the King of Wendlyn, Glaston Ashryver.
Biography
Evalin was born in Wendlyn. During a visit to Orynth, she met and fell in love with Rhoe Galathynius at first sight. They married and had a daughter, Aelin, whom they both loved very dearly.
Even though Mab, one of the three Fae Sister-Queens, was her grandmother, Evalin never inherited the ability to shift into her animal form the way the Fae can.
She was assassinated along with her husband and his uncle by having her throat slashed. Their bodies were found covered in blood in their chambers at their country estate by the river Florine.
Twenty-five years ago, Evalin spent almost a year working in the kitchens with Emrys in Mistward. She became friends with many of the demi-Fae and was a fighter for demi-Fae rights.
Personality
Evalin was very kind and friendly. She was friends with many from Mistward. She was known to have great wisdom, intelligence, and the ability to think through difficult situations. These traits were inherited by her daughter. Unlike Aelin, Evalin possessed patience and self-control.
Physical Description
The princess of Wendlyn was said to be very beautiful, with a svelte but curvy body and bright turquoise eyes with gold-ringed pupils, common for everyone with Ashryver blood.
Powers and Abilities
Evalin had powerful water magic. She often used it to extinguish Aelin's flames whenever she lost control of her magic.
Relationships
Gallery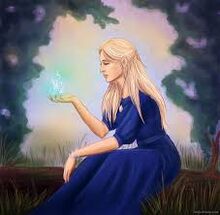 Appearances
Evalin Ashryver Galathynius is deceased. She is mentioned in Heir of Fire, Queen of Shadows, Empire of Storms, and Kingdom of Ash.
Trivia
Evalin, thanks to her Fae heritage, had a difficult time with pregnancy. She stopped breathing during labor. It's said that it was only Rhoe's will that kept her tethered to the world. She could not conceive after that.
References
Community content is available under
CC-BY-SA
unless otherwise noted.